During the recent NADCA Chapter 3 dinner and meeting, Tom Vann got the chance to witness an interesting presentation given by Dr. Sam Ramrattan of Western Michigan University.  This presentation focused on a long-term project regarding a die casting machine in a box.  Yes, you read that correctly.  The engineering students of Western Michigan University have built a die casting machine in a box and it's fantastic.
What is a Die Casting Machine in a Box?
What is a die casting machine in a box you ask? Put simply, it is a smaller scale version of a die casting machine that provides the students of WMU with hands-on die casting training without having to step foot in a die casting plant.
Building a Die Casting Machine in a Box
Several years ago, the students of WMU worked with many different suppliers to build 1/8 scale model of an actual Prince cold chamber die casting machine for WMU to use in their teaching and training of future die casters.  In the fall of 2015, Visi-Trak's True-Trak 20/20

Computer Monitoring System was added to the machine.
Features of the DCIB
The machine is safe, and also portable, making it easy to transport from classroom to classroom.  The parts can be interchanged, which allows students the chance to study process variables.
The DCIB features not only structural components of a real-life die casting machine, but also hydraulic and electrical components such as sensors and thermocouples as well.  The machine is capable of die design simulation and as mentioned above, includes process monitoring with help from the Visi-Trak True-Trak 20/20

Computer Monitoring System.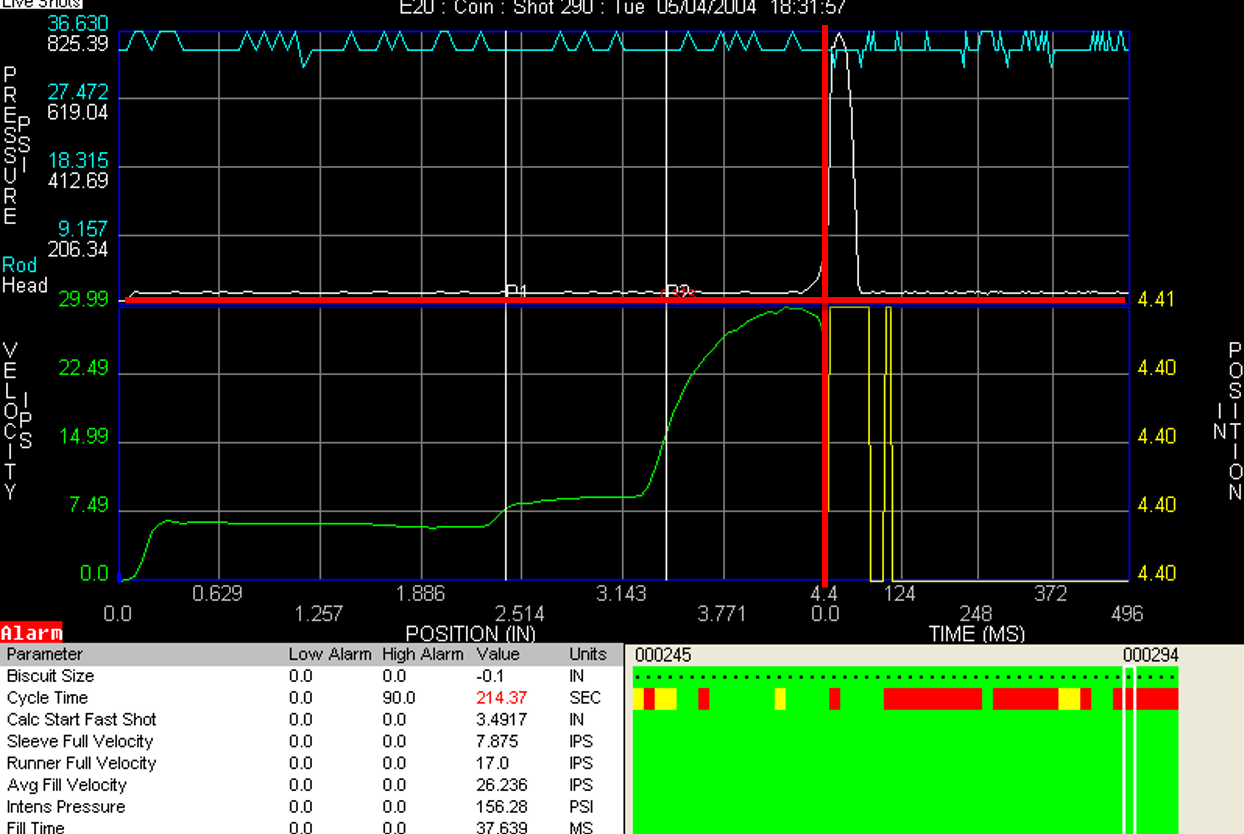 (Outputs – Visi-Trak Plot View)
The DCIB is also functional.  The machine can produce real die castings.  The die that is currently being used can produce two sided coins, with the WMU logo on one side, and the NADCA logo on the opposite side.
Current Objectives
Design, fabricate and install a melting and a dosing system to the cold chamber.
Safely automate the DCIB machine to cycle the following operations:

Integrate the machine with a PLC and the Visi-Trak True-Trak 20/20 Computer Monitoring System
Install light curtains and guards
Gravity shoot hot casting for automatic handling

Public Presentation of the DCIB on April 17, 2018
The Future of the DCIB
Although this project has come a long way, there are still some items on the project wish list.  The die casting department at WMU would like to install additional electrical components such as a 24 Volt Power Supply for the PLC, safety relays, and also heaters for the cold chamber and dosing system.
Visi-Trak is excited to see how this innovative project continues to develop.  It is a really original and beneficial tool for molding the future die casters of the world (no pun intended).

*Featured pictures courtesy of Dr. Sam Ramrattan and Western Michigan University.  
The post Spotlight on: Die Casting in a Box appeared first on Visi-Trak.