It should come as no surprise that the key to higher margins is making every shot a good shot.  If you can make every shot a good shot, you can reduce your scrap rate and required impregnations.  By implementing the Visi-Trak Plantwide Monitoring and Part Traceability System, Ahresty accomplished both of these things in just one year.
Ahresty Wilmington saved $43,500 on just a single part, in a single year.  That's HUGE!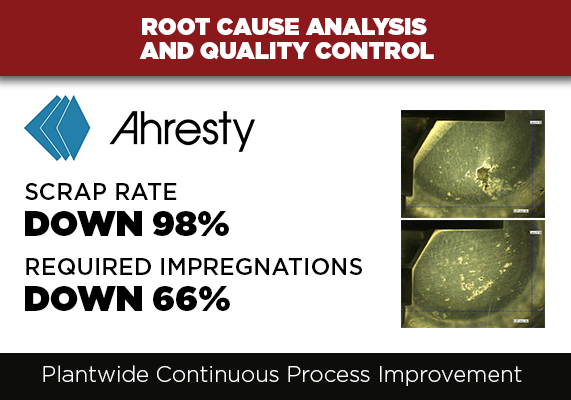 Not only did they reduce their scrap rate by 98%, but their required impregnations were reduced by 66%.
Before installing Plantwide Monitoring, Ahresty had insufficient data OEM supplied monitoring systems and they were receiving data in inconsistent formats that couldn't be data mined centrally.  After implementing Plantwide Monitoring, Ahresty had a complete local and remote view of the shot event and a complete QA picture.  They were able to automatically segregate parts on out of limit parameters.
As we have discussed before, almost every aspect of process automation can have an impact on part quality.  Shot monitoring can alert you to potential issues, while shot control can help you avoid them altogether.  Both processes make sure you are adhering to established shot profiles.  There's also Part Traceability, which helps you maintain irrefutable proof that you are shipping parts that either meet or exceed your process requirements and a valuable quality analysis tool that allows for defect prevention.  Why detect defects if you can prevent them altogether?
Improve the quality of the parts produced and you will increase your profits.   When you put it like that, Plantwide Monitoring is a no-brainer.
The post How Ahresty Saved $43,500 on a Single Part, in a Single Year appeared first on Visi-Trak.