The Problem
Ahresty Wilmington suffered from a lack of data and the data they were receiving was inconsistent.  They knew that they needed to determine the cause of their scrap rate and low quality production.
The Fix
With goals of being able to collect more data and lower their scrap rate and a dedication to improving their process, they invested in the Visi-Trak Plantwide Monitoring and Traceability System.  The Visi-Trak System allowed them to continuously monitor their product group throughout the production cycle.
The system provided Ahresty with the data they needed to understand causes of product variation and implement the counter measures required to produce quality parts on a consistent basis.
The Traceability System automatically collected and archived valuable shot data for each part.  The archived information is available for future access.
In sum, they started preventing defects rather than detecting defects once it was too late.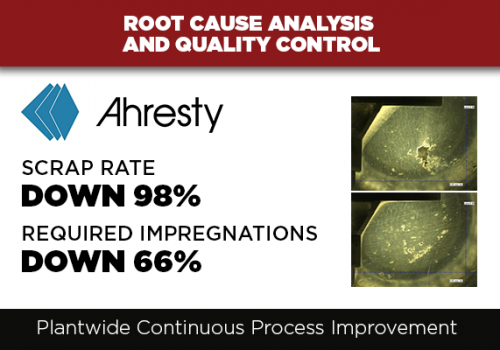 The Results
After installing Plantwide Monitoring, Ahresty decreased their scrap rate by 98% and reduced their required impregnations by 66%!
In a single year, Ahresty Wilmington was able to save $43,500 on just one part!
After Ahresty implemented the Visi-Trak Plantwide Monitoring and Traceability System, they were able to see a complete local and remote view of the shot event and complete QA picture.  This led to them being able to automatically segregate parts on out of limit parameters.
By working to prevent defects altogether, Ahresty stopped detecting defects after the fact.  This helped them increase their profits.  Once again, another prime example of when the good shots count and the bad ones cost.

The post How Ahresty Decreased their Scrap Rate by 98% appeared first on Visi-Trak.